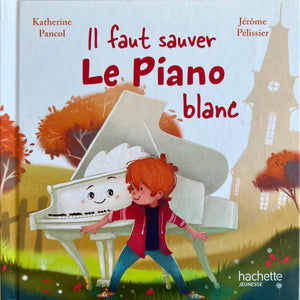 Il faut sauver le piano blanc by Katherine Pancol
Condition : like new 
The white grand piano from the boutique on rue Saint-Honoré is a real star!
Especially for his friend Rémi Pinson, who comes to play the most playful melodies on his keyboard for hours.
But one cursed day, a stern man dressed crookedly bursts into the store and buys the poor piano...
Will Rémi manage to find his friend?
Le grand piano blanc de la boutique de la rue Saint-Honoré est une vraie vedette!
Surtout pour son ami Rémi Pinson, qui vient jouer des heures à son clavier les mélodies les plus enjouées.
Mais un jour maudit, un homme sévère vêtu tout de travers fait une entrée fracassante dans le magasin et achète le pauvre piano…
Rémi va-t-il réussir à retrouver son ami?

30 pages, Hachette Jeunesse, hardcover 7 x 7 inches 
---
We Also Recommend