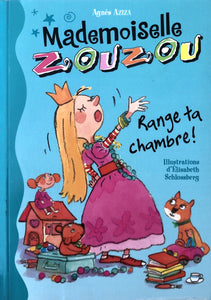 Mademoiselle Zouzou - Tome 1 Range ta chambre
Condition : good 
Chapter book, perfect for advanced reader, 6-8 years old.
Zouzou is performing a play in his room. All his toys are outside, obviously, we need an audience. But here is Papa who does not understand Zouzou's talent and sees only the disorder. We must tidy up, and quickly.
Zouzou est en train de jouer une pièce de théâtre dans sa chambre. Tous ses jouets son dehors, forcément, il faut bien un public. Mais voila Papa qui ne comprend rien au talent de Zouzou et ne voit que le désordre. Il faut ranger, et vite.
54 pages, France Loisirs, 5.08 x 0.28 x 7.17 inches