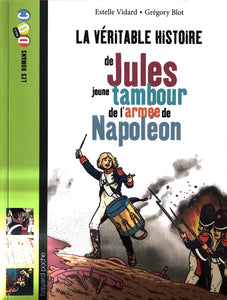 Les romans Images Doc - La veritable histoire de Jules jeune tambour de l'armée de Napoleon
Condition : very good
Suitable for 8 years old, chapter book for advanced readers. 
In 1805, Napoleon reigned over the Empire of France. He wants to make it the greatest power in Europe. Jules is 12 years old becomes "tambour" of the Grande Armée.The story is regularly punctuated with additional information.
En 1805, Napoléon règne sur l'empire de France. Il veut en faire la plus grande puissance d'Europe. Jules a 12 ans. Comme son père mort au combat, il est fou d'admiration pour Napoléon. Si seulement, malgré son jeune âge, il pouvait à son tour servir l'Empereur ! Quelques ruses et sa motivation l'emportent : Jules devient « tambour » de la Grande Armée. Le récit est régulièrement ponctué d'informations complémentaires.

46 pages, Bayard, Paperback pocket