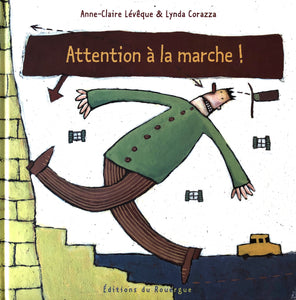 Attention à la marche! By Anne-Claire Lévêque & Lynda Corazza
Condition : very good
From her balloon, a little girl observes the movements of people in the city from above.
Giant steps, ant steps, on a bicycle or on a bicycle, everyone is restless.
By examining them, the heroine decides to invent a way of getting around for each day of the week ...
Perchée sur son ballon, une petite fille observe d'en haut les déplacements des gens dans la ville. À pas de géant, à pas de fourmi, à vélo ou à bicyclette, tout le monde s'agite. En les examinant, l'héroïne décide d'inventer une façon de se déplacer pour chaque jour de la semaine...

48 pages, Edition du Rouergue, Hardcover
---
We Also Recommend